CLIENT
Mister Safety Shoes

SERVICES
Website Design & Development
Monthly Website Updates & Maintenance
Digital Ad Design
Print Design
Consultation
With over four decades in the industry, Mister Safety Shoes is committed to providing reliable and durable safety footwear. Designed for professionals who prioritize safety without compromising on comfort, their range of products ensures you're protected with every step.
Case Study: A Seamless Digital Makeover for Mister Safety Shoes
CHALLENGE:
Mister Safety Shoes' online presence was fragmented and confusing. With its operations split between a Shopify eCommerce platform and a WordPress website, the user journey was disjointed. The drop-down menu system, suboptimal for a larger website, further complicated navigation. Visually, the brand lacked cohesion, with a busy design that detracted from its core offerings.
SOLUTION:
Unified Platform: Recognizing the primary focus of Mister Safety Shoes — selling safety shoes — we migrated the entire website to the dedicated Shopify eCommerce platform. This created a seamless user experience and simplified back-end management.
Design Refinement: We stripped back the visual clutter to let the product shine. By cleaning up the design, we positioned the spotlight squarely on what matters most: the safety shoes, and consequently, the buyer.
Navigation Enhancement: To optimize navigation for a large product range, we introduced a megamenu system, offering users a more organized and intuitive browsing experience.
Product Page Optimization: Our team revamped the product grid pages with organized filters, enabling quicker and more accurate product searches. Moreover, single product pages were enhanced by integrating Google Reviews and a comprehensive Fit Guide, ensuring that customers have all the information they need to make informed decisions.
OUTCOME:
The digital transformation of Mister Safety Shoes now reflects a brand that's as focused on its online user experience as it is on the quality of its products. The newly integrated and streamlined website not only simplifies the purchasing journey but also solidifies the brand's reputation in the safety shoe industry.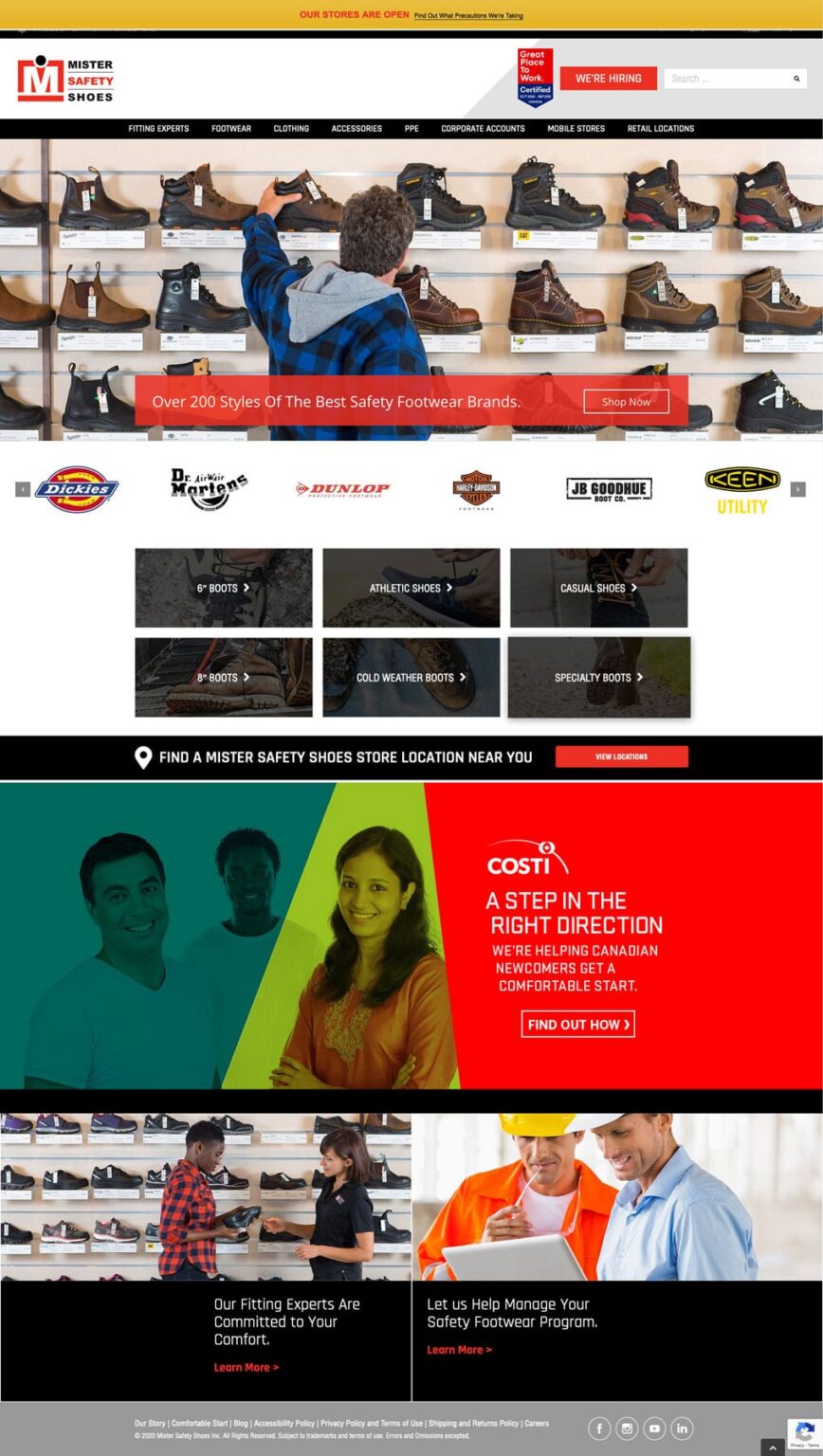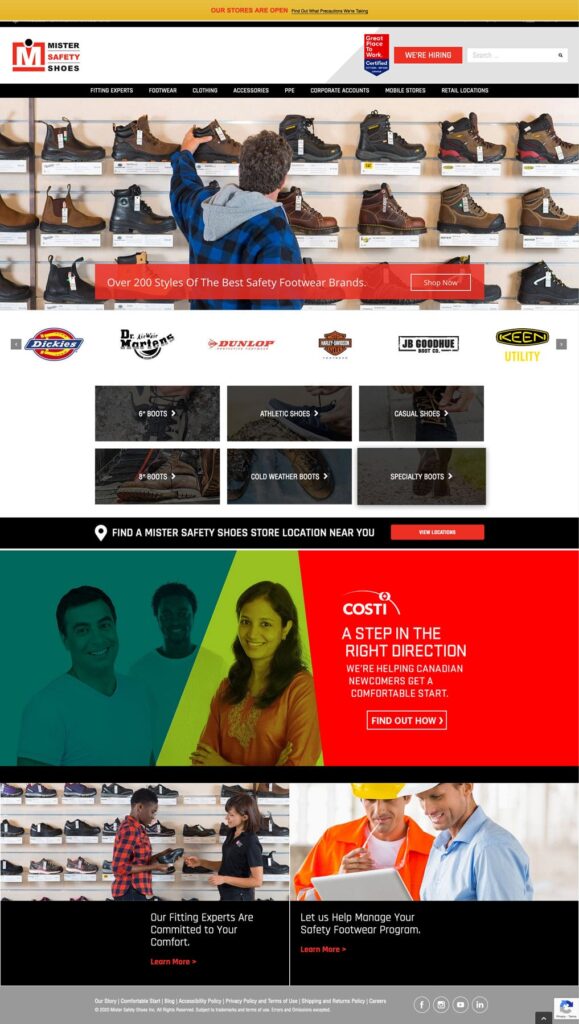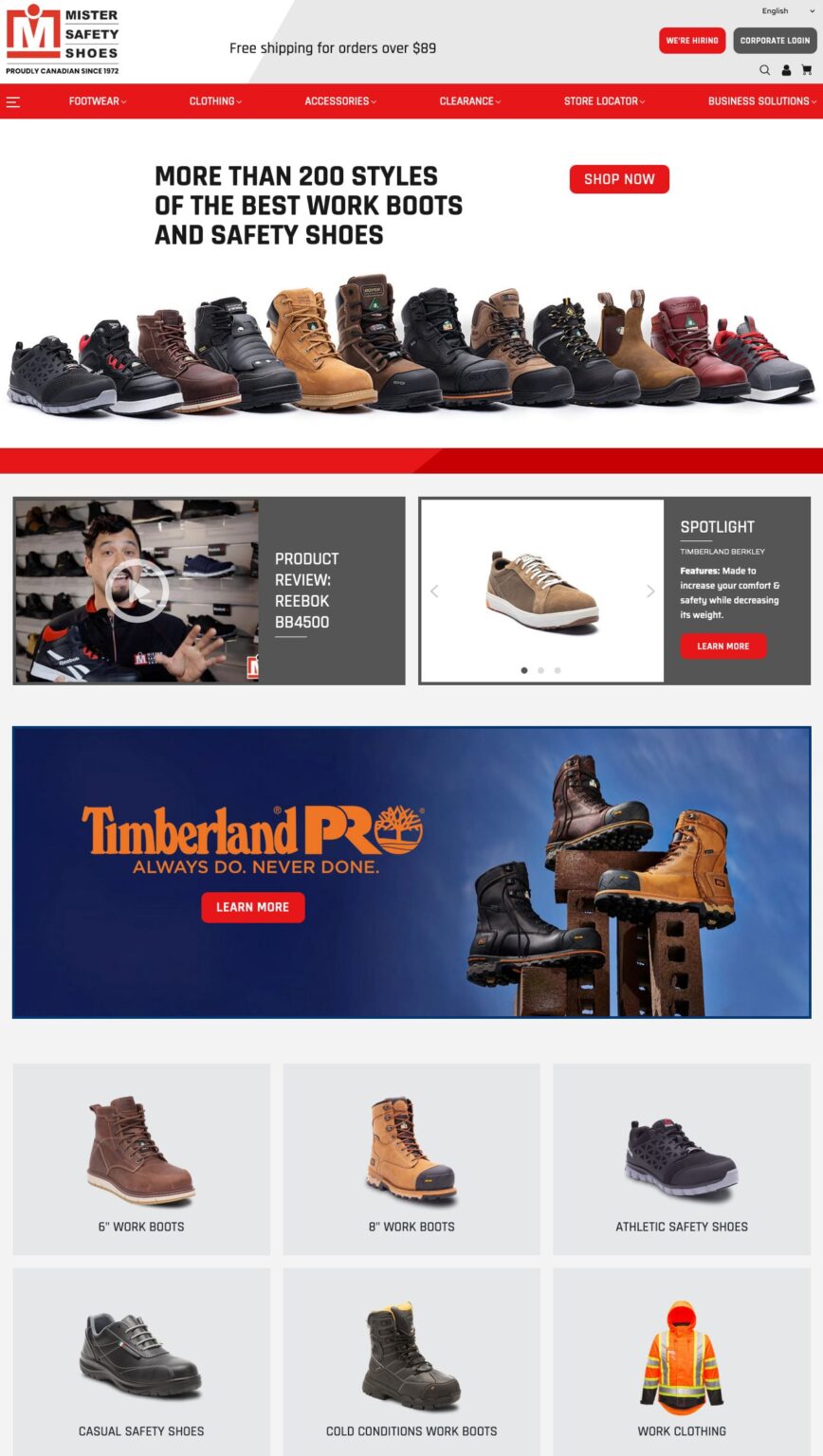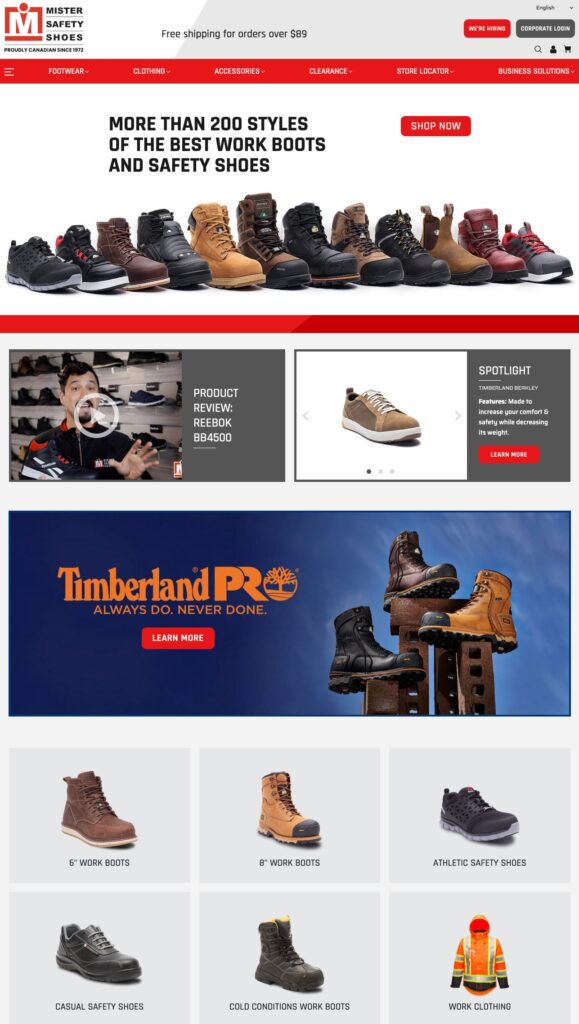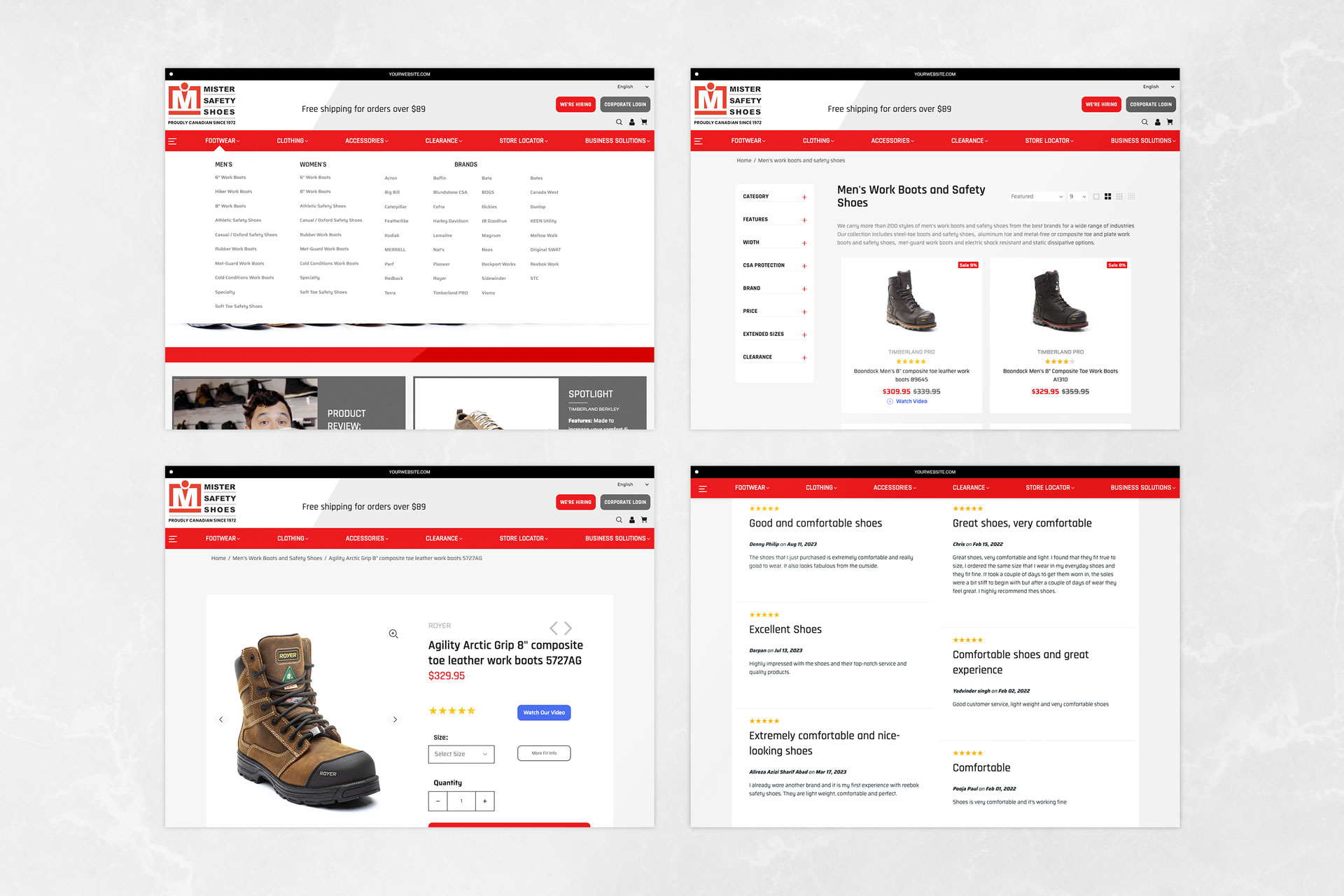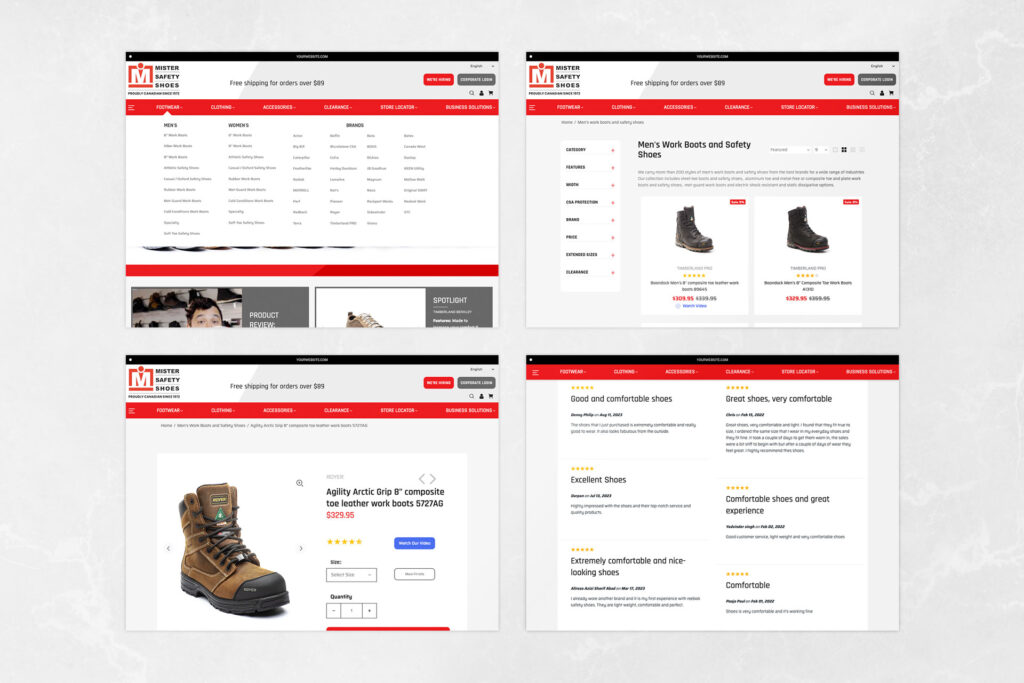 Beyond the initial website transformation, our collaboration with Mister Safety Shoes extends to a spectrum of design deliverables, ensuring a cohesive and professional brand presence across all touchpoints.
Intranet Site Design: Curating a seamless internal communication platform for employees, reinforcing brand ethos and enhancing operational efficiency.
Signage: Crafting visually compelling and consistent signages that echo the brand's commitment to quality and professionalism.
Display Banners: Designing impactful banners that capture attention, effectively communicating the brand's value propositions.
Brochures: Creating informational brochures that brings together rich content with refined design, facilitating informed decisions for potential customers.
Sales Sheets: Developing sales materials that spotlight product features, benefits, and differentiators in a polished and professional format.
Digital Ad Campaigns: Strategically crafting digital advertisements tailored for both Google and various social media platforms, ensuring Mister Safety Shoes remains at the forefront of its target audience's digital journey.
Through our ongoing partnership, Mister Safety Shoes enjoys a uniformed and elevated brand presence, both online and offline, further solidifying its position in the marketplace.